Don't get me wrong, I'm not bad-mouthing Google at all. It's a fantastic prospecting engine. For many businesses it's the best way to get leads. But, it's a prospecting engine, it's not a sales engine.
Only a small proportion of leads turn into sales. And, it's not just Google's leads, all advertising suffers from low lead to sale rates.
I've been able to put a lot of effort into this problem over the last 13 months. I've worked very closely with two clients to build sales engines for their businesses.
When we started, both clients had a working prospecting engine. We had a steady stream of leads from Google Ads and other sources. And, they were making sales. It wasn't all doom and gloom but, they knew that they weren't making as many sales as they could be.
It would have been easy for them to blame the quality of the leads or the state of the market for low closing rates. The truth is that the market is tougher than ever.
But, both clients have been in business for long enough to know that even though times are tough, there was room for improvement. They knew that there was no way that their sales processes were working at 100%, 100% of the time.
The sales engines aimed to fix that.
If your business is anything like their's were at the beginning of the year ...
You know you're missing opportunities.
Qualified prospects who didn't meet with a sales person or get a quote.
People you quoted who didn't buy.
People who said yes, but never got any further.
People who contacted you for one thing but would be a good fit something else you do.
Repeat sales to past clients.
Leads fall through the cracks.
Leads that arrive by email without a phone number and don't reply to your email.
Leads who call when nobody can answer.
Leads where you've left a voicemail but they didn't call back.
There is no one-place to find out everything we need to know about a prospect or client. It's strewn all over. It's in email, in your accounting system, on post-it notes and in people's heads. And, when someone leaves the business, crucial information about "their" clients walks out the door with them.
You know your people are not following up on 100% of ...
Incoming leads where they didn't make contact on the first call.
Qualified prospects who didn't meet with a salesperson.
Prospects that met with a salesperson but where the deal didn't happen right away.
Prospects who said yes, but for some reason didn't complete the process and actually give you any money.
You know you'll get more sales if you work on the sales process, but, you don't know which part of the process you should be working on now.
You don't know how many leads, qualified prospects, meetings, quotes and sales you had this month. You don't know if it's better or worse than last month.
You don't know which of your sales team are on fire, and who's struggling.
You don't know the value of each part of your marketing. You don't have answers to questions like:
How many leads came from our website, and how many turned into sales?
How much money did we make from Google Ads?
Should we be running a Facebook page?
Which marketing could we ramp up for more sales?
Which marketing is a loss and which is profitable?
Your sales team is talking to too many unqualified prospects. And, they're playing email ping-pong. 10 emails to arrange a meeting.
Any of this sound familiar?
Things are very different for both clients now. We haven't solved every one of those problems perfectly, but we have made a lot of progress. Here are three quick highlights. (I've anonymised my client's names for their privacy.)
B.'s business now handles more than 1 500 leads a month. In January he had 79. Response time is faster, qualifying is more accurate, and the closing rate is up. Without hiring a single extra person.

We were able to rescue $280 000 a month worth of waste from no-shows and turn it into an extra $185 000 worth of new business.

M. has gone from being in the dark about the value of his ad spend, to knowing exactly how much each channel is worth. For example, last month he made $3.34 in initial profit for every $1 he spend on Google Ads. (The ratio is quite low because he's in an incredibly competitive market.)
You might think this is where I try convince you to have me build you a custom sales engine. I'm not going to do that.
I don't think a custom-built sales engine is right for every business. These sales engines cost a bomb. Also, I'd prefer to help 200 businesses get more sales from their leads instead of just two.
I know how to do that but I'm unsure about two things:
Does your business have any of the problems my client's faced? If so, which ones specifically?
Does having a sales engine sound like something you'd like me to help you with?
Let me know by email to me@pete-bowen.com.
Want to increase your conversion rate?
I've seen
conversion rates double, triple and even 10X
after a few quick and easy changes to the enquiry form. Subscribe now, and I'll send you a free copy of my in-depth ebook High-Converting Enquiry Forms.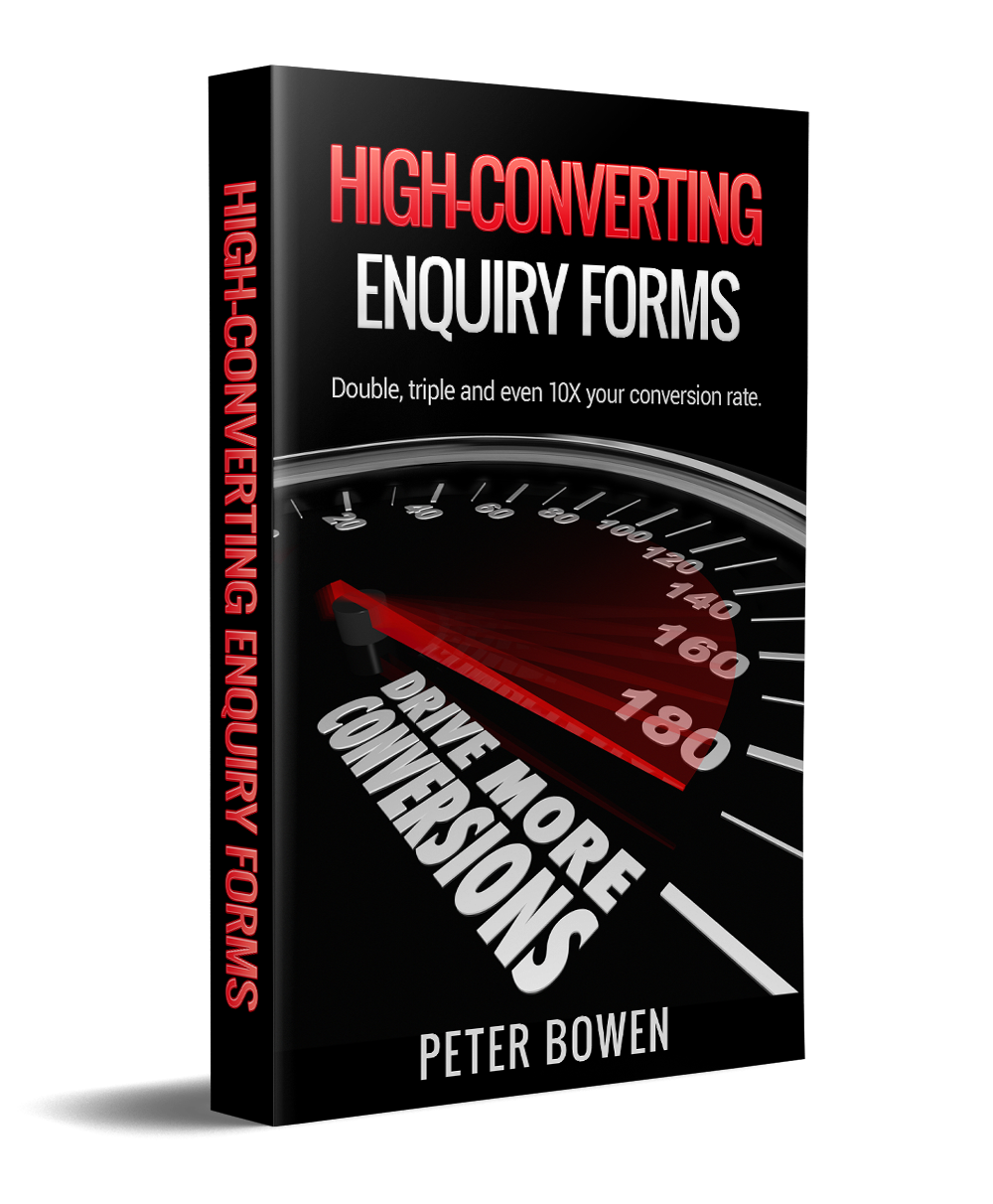 You're already paying for clicks. Now turn them into conversions.
Privacy policy.
Unsubscribe at any time.
Related articles