It's uncomfortable when a potential client asks me if I guarantee that they'll make sales from their Google Ads.
In the past my first instinct was to run away. I thought that asking for a guarantee was a sure sign that they're going to be a toxic client.
I was wrong.
Obviously it'd be great if new prospects trusted you instantly. If they respected you as a professional. If they were confident that you knew what you're doing. If they were sure you weren't going to rip them off. But it doesn't always happen.
People have good reason to distrust online advertising.
I used to be a civil engineer. I designed roads, bridges, dams and other structures. I had to get a 4-year degree and then work for 2 years under the supervision of a professional engineer before I could apply for registration. My first application for registration was 125 pages long. It set out all the work I'd done in excruciating detail. The engineering council rejected it. I had to get another year's experience before being licensed to practice as an engineer on my own.
Starting a Google Ads practice is nothing like this.
Anyone can open a Google Ads manager account now and sell their services. People do. They make extravagant promises that they can't fulfil. Their customers spend money on websites, ads and management and never see a single sale.
Is it surprising that your potential client wants a little reassurance?
While it is true that some of the people who demand a guarantee are antagonistic, they're not all going to turn into THAT client.
Maybe they think it's possible for you to guarantee sales. Maybe they don't know much about advertising. Maybe they've just not thought it through properly.
My experience is that most people are likely to be more reasonable once they understand what can and can't be guaranteed.
After having the conversation a couple of times and forgetting a few important points I wrote up an email template. You're welcome to use my template as a basis for your own response to someone asking for a guarantee.
Here it is...
We guarantee all parts of the advertising to sales process we control.
We have some control over who sees your ads.
We'll work with you to make sure that your ads can be shown when people search in such a way that suggests that they're in the market for what you sell.


We'll set up your ads so they show to people in areas where you can do business. Google's system for determining this isn't perfect so the occasional ad will show to someone outside your area. We'll monitor this.


We'll work with you to make sure your ads show to the demographics that are most likely to buy. Again, Google's system isn't perfect but it's getting better all the time.

We'll apply skill and experience to writing ad copy that's attractive to your target market. We'll improve the ad copy in time based on the how your market responds to the ads.
We'll apply our best efforts to getting you fair value for the money you spend on Google ads. Over time we'll adjust the when your ads show, how much we offer to pay Google per click, where your ads show and a many other parameters to get you the best possible return.
We'll track how many sales enquiries were the result of your Google Ads advertising. You'll know exactly what you're getting for your spend.
We'll set up a Google Ads account for you if you don't have one. You can log in at any time and see how many people have seen your ads, how many people have clicked on them, how much it cost and many other things. This account will always be yours, not ours. In time the data from your campaigns becomes very valuable. You will always have access to this data and all the work we've done to date, even if you choose to stop using our services.
We'll help you set up direct payment to Google. You'll always know exactly how much you've paid. We don't mark up your ad spend. We have no hidden profit from of your account.
Our work is transparent. We'll give you access to the system we use to record our work on your account. You'll be able to see what we've done, and, why we've done it. We'll discuss these with you if you want to know more.
We won't take on your competitors while you're our client.
We'll keep our skills up to date. We'll invest time in understanding changes to the Google Ads system. We'll evaluate new advertising opportunities and features and let you know how they affect your ads.
We'll respond to your enquiries as fast as possible. We'll try answer questions by email, and if that's not a good we'll arrange to talk.
We can't guarantee the parts of the advertising to sales process you control.
We don't have control over how you respond to people who enquire after seeing an ad. Responding correctly is crucial. We'll show you a format that's worked for other clients.
We don't have control over your sales process. We'll help you track how well your sales process works for leads that come from this advertising. We'll work with you to improve it if needed. We'll take your feedback about the leads and use it to sharpen the advertising campaign.
We don't have control over your prices. Sometimes you'll be too expensive for some of the people who see your ads. We'll help you identify things your best future customers value more than a low price so you'll be able to make sales without being the cheapest.
We don't have control over when you go on holiday or other times when you might not be able to respond to enquiries. Let us know and we'll pause your ads so you don't waste money.
Nobody can guarantee the parts of the advertising to sales process that are out of both of our control.
Nobody can guarantee that Google will show your ads. We'll monitor your ads and respond if Google stops showing them for any reason.
Nobody can guarantee where your ads will show on the page. Google doesn't tell anybody exactly how they decide which ad goes at the top, which is next etc. We have an idea of how it works because Google has shown hundreds of millions of our ads over the last decade. We'll use that to work on having your ads shown in the favourable positions, but, Google will always have the final say.
Nobody can control what your competitors do. They may choose to spend more on advertising than you do. They might sell their products or services at below cost to gain market share. They might sell inferior products at much cheaper prices. Neither you nor I can change that. Instead we'll work together to make your ads work in spite of them.
Nobody can guarantee what your ads will cost per click. We watch your budget to make sure you don't spend more than you've allocated. We will work to help you get the best value from your ad spend.
Nobody can guarantee that the people who see your ads will click on them. We'll apply skill and experience to writing ad copy that's attractive. We'll monitor click through rates and test and tweak to improve the results you get.
Nobody can guarantee that the people who clicked your ads will fill in the enquiry form on your website. We'll obsess over this. We'll let you know if there are things you need to change on your site that'll improve this.
/ends
Want to increase your conversion rate?
I've seen
conversion rates double, triple and even 10X
after a few quick and easy changes to the enquiry form. Subscribe now, and I'll send you a free copy of my in-depth ebook High-Converting Enquiry Forms.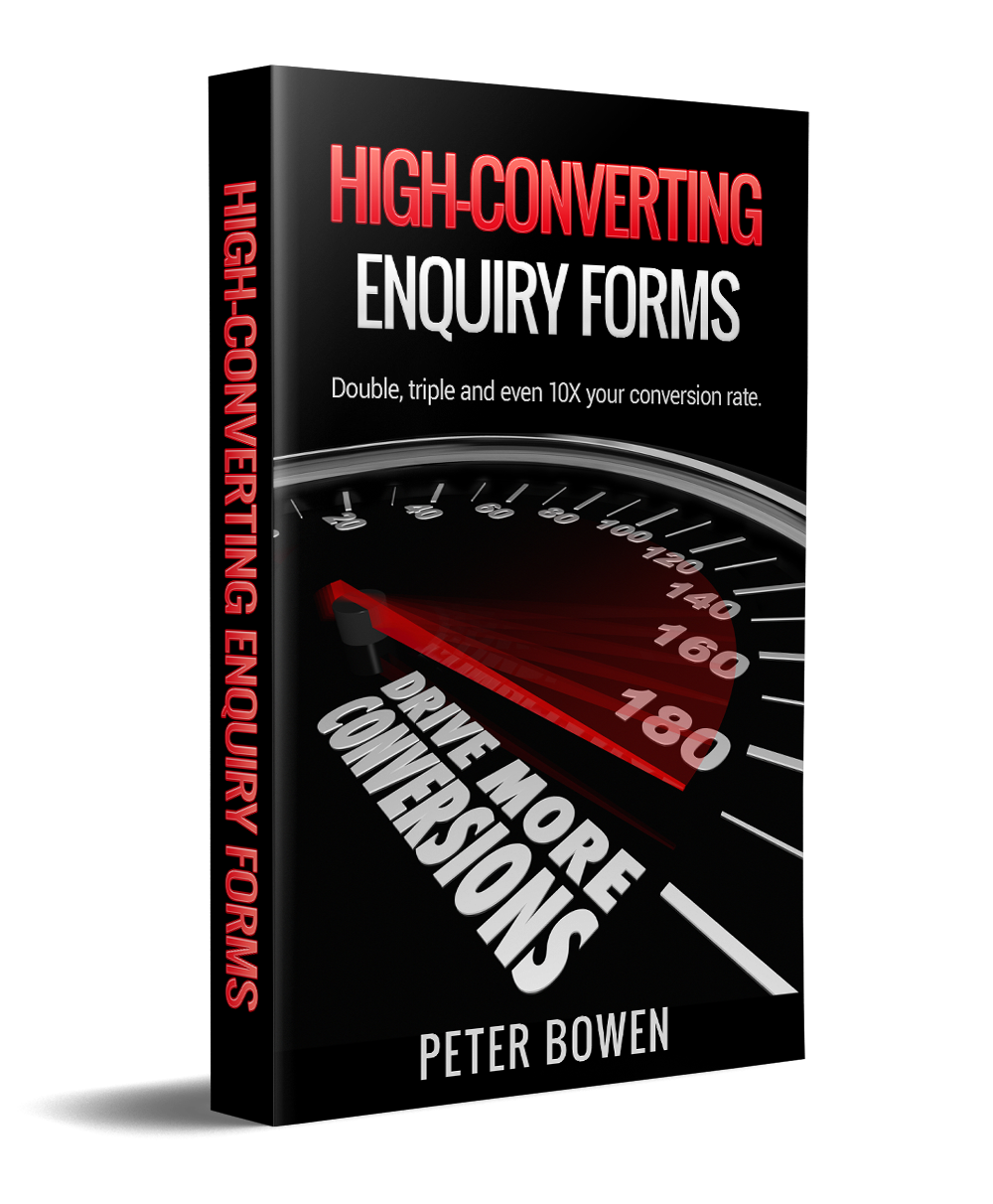 You're already paying for clicks. Now turn them into conversions.
Privacy policy.
Unsubscribe at any time.
Related articles