A reader emailed...
My client fired me, and now he's asking for my secret sauce.
She'd been running a successful Google Ads campaign for almost a year. Out of the blue the client had hired a marketing employee and fired her.
This was the first time she'd been fired. She was devastated.
She'd delivered loads of leads at a profitable CPA and had expected loyalty from the client. This was betrayal.
Now not only was she out, but the client wanted her to get the new guy up to speed. What a cheek!
Her first instinct was to tell the client to (use your imagination here). She was two steps away from deleting the entire account.
Why should she share her knowledge if the client thought he could do without her?
You'd expect to be fired if you couldn't get conversions. But when you're running a campaign that beats its goals every month it feels unjust. Lashing out, wanting to sabotage the client is a natural reaction.
Losing a client hurts, but thinking about the long game can help take the sting out of it.
There are four possible outcomes when your client replaces you:-
The new guy does well. He builds on what's currently working and Google Ads keeps delivering a high ROI.
The new guy causes mayhem. He makes huge changes to the account and auto-applies every recommendation. CPAs go up. Conversions go down. The business is in trouble.
The new guy keeps working for the client.
The new guy leaves after a few months or years.
You can't profit from any of these outcomes if you've torched the relationship with the client. But there are opportunities if you focus on the long game and leave on a high note.
The most obvious is when the new guy proves to be rubbish.
Based on the number of past clients who contacted me within 2 years of hiring a new guy I estimate that at least half regretted their decision.
You see, some people will promise the world to win a job or contract. They'll exaggerate their abilities. Then they'll wing it. Or perhaps they genuinely believe they're better than they are.
Another opportunity comes when the new guy leaves. People change jobs and agencies change the kinds of clients they work with.
Win the long game with a first-class handover.
The handover is a meeting between you, the client and the new guy.
I recommend you offer this meeting rather than wait for the client to ask.
If the client or new guy doesn't want the meeting you should send a handover email.
I also recommend that you don't charge for this meeting. Think of it as a marketing expense that has a pretty good chance of turning into a sale down the line.
Here's an agenda you could adapt.
Why the account structure looks like it does.
Things we've tried.
What we've planned but haven't had time to do yet.
Account access.
Questions.
Let's dive into the details...
Why the account structure looks like it does.
The new guy will want to rearrange campaigns, keywords and ad groups to suit what he thinks is a good account structure.
That is risky. Wholesale changes always introduce volatility and often harm performance.
(I know this is not your problem, but trust me it's the right thing to do.)
There are good reasons for the current structure. But it's impossible to figure them out by looking at the account. It needs you to give some background.
I don't think you need to explain standard stuff like having a separate brand campaign. Instead focus on anything that's less conventional for example…
You'll notice that keywords relating to emergency garage door repair are in their own campaign. These convert to sales more often so we wanted to capture as many leads as possible. That's why they're in a separate campaign with its own budget.
Or ...
Some campaigns are still using SKAGs. That's not how I'd build a campaign today, but it good practice when I set them up. They've been delivering loads of leads years and I didn't want to risk that to follow the current fashion.
Things we've tried.
Cover what you've done in the past, why you did it, what worked, what didn't, and so on.
This doesn't have to be exhaustive but I'd include major things like bid strategy experiments, big ad copy changes etc.
What we've planned but haven't had time to do yet.
Here's where you get remembered for your generosity.
I'm not suggesting you hand over a detailed game plan. A high-level overview is enough.
Account access.
Make sure that the new guy and the client have access to everything they need to run the ads. You don't want a call at 6am a year from now because the landing pages are down and you're the only one who knows the password for Unbounce.
Questions.
I expect you won't face many questions because the new guy won't have had enough time with the account to know what they don't know but, it's still important to allow for them.
This agenda ensures that the transition is as smooth as possible. As professionals we owe our clients this duty of care.
If you've followed the agenda your client might be thinking "Wow, she knows her stuff. Have I made a huge mistake letting her go?"
Now's the time for the retainer offer.
A retainer is when someone pays you to be on standby. You get paid whether they use your services you or not.
You might pitch it something like this.
Other clients have had questions or needed help after my day-to-day involvement ended. It's proved useful to them to have a retainer agreement in place. That way you know I'm available if something goes wrong.

I suggest a 4-hour a month retainer at $xxx per month for the next 3 months. This means you have access to me for up to 4 hours each month if needed. Would you like this?
Offering a retainer is a win even if the client doesn't accept it.
It implies that you are available to help, opens the door for an ongoing relationship and puts a value on your expertise.
It's also takes away any feeling of unfairness if the client or new guy asks you for something in the future. You either do it under the retainer or offer the retainer again.
I'll leave you to decide on how much to charge for the retainer.
Lean towards asking for more than you feel comfortable with. If the client declines you've lost nothing. If the client accepts you've anchored your future value at a higher rate.
Want to increase your conversion rate?
I've seen
conversion rates double, triple and even 10X
after a few quick and easy changes to the enquiry form. Subscribe now, and I'll send you a free copy of my in-depth ebook High-Converting Enquiry Forms.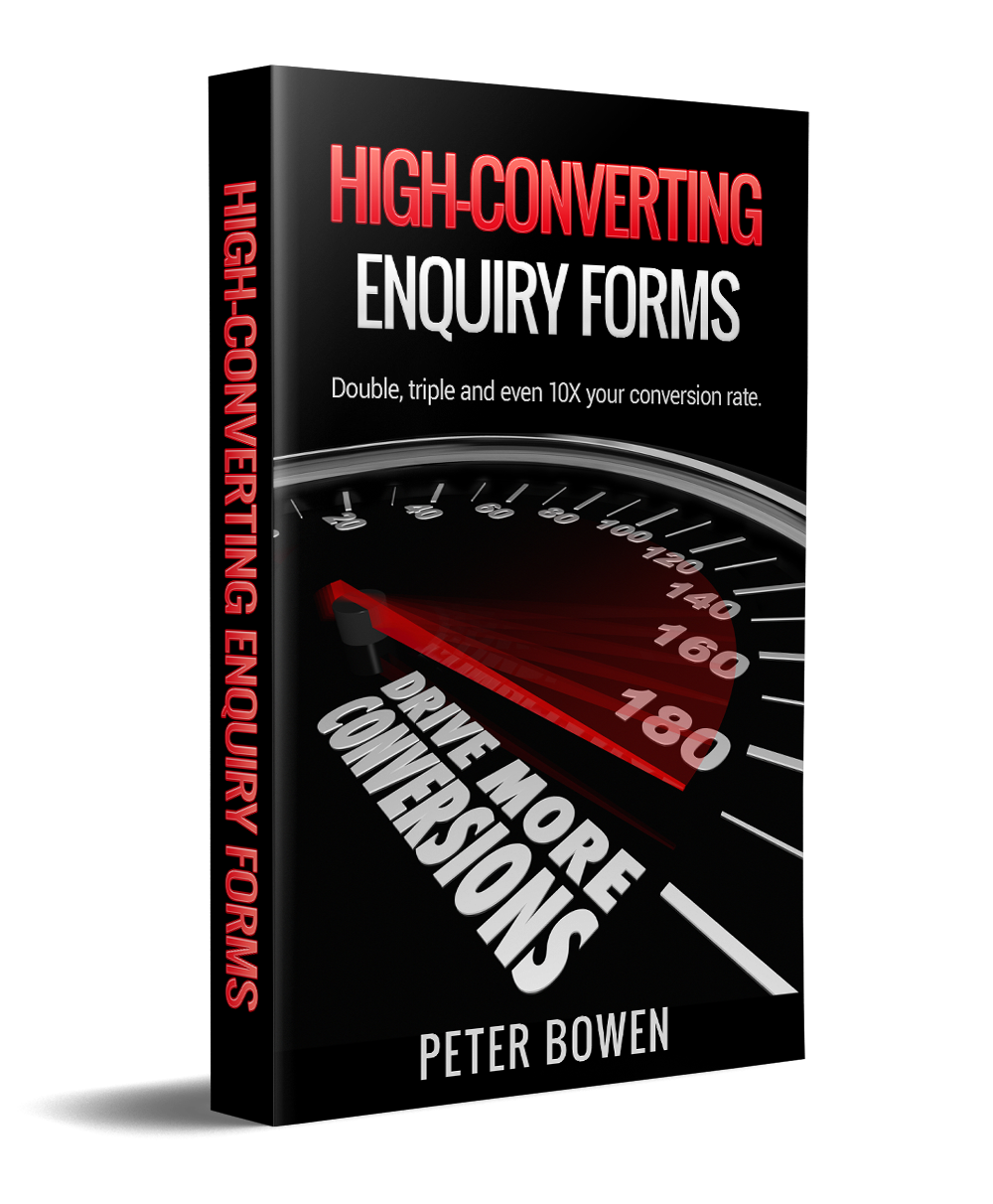 You're already paying for clicks. Now turn them into conversions.
Privacy policy.
Unsubscribe at any time.
Related articles