Your client has come up with a terrible idea for improving the campaign or landing page. You're scared that if you push back you're going to lose the client. But, you know that if you implement their idea the conversion rate will drop. And, you'll be blamed for it.
How do you handle this - especially if you're the kind of person who shies away from confrontation?
It'd be nice if you had enough clout to say It's my way or the highway but the reality is that most of us need every client we have.
Here's an approach that requires no arguing. It will improve your status as a trusted advisor and win you client's respect.
It's called adversarial collaboration. It comes from the research world. Two scientists with conflicting hypotheses work together to design an experiment to settle the matter. Test tubes at dawn.
The key is that both are willing to accept the results, even if it proves them wrong.
But, most of our clients aren't scientists.
Some people are so certain of their infallibility that they never accept that they're wrong. Evidence can't convince them. They'll change the subject, argue the results or flat out ignore anything that conflicts with their opinion.
Adversarial collaboration can't work if your client is one of those never wrong people. Skip ahead to the section on making your business immune to toxic clients.
Don't tell them they're wrong.
When a client hits you with a better way of doing your job it feels like they don't trust your expertise or respect your judgement. Your first instinct will be to defend yourself.
Don't do it.
Here's a crazy thing about we humans. The more someone argues with us, the more attached we become to our position. Arguing embeds the idea. It's like a fish-hook in your thumb - the harder you pull, the deeper the barb sticks. Our position becomes part of us. And it doesn't matter how strong the argument is. Facts and figures mean nothing to most people once they've made their position part of their identity.
But it gets worse.
When you criticise your client's idea they feel like you're criticising them as a person. They've offered a helpful suggestion. You've attacked them.
Understand what they want to do and why.
So if you can't tell the client that adding 25 high-resolution images to the top of their mobile landing page is bonkers, what can you do?
You can ask questions and listen to the answers.
But not the kind of listening where your ears are open but your brain is working on your response. Adversarial collaboration starts by understanding your client's position as well as they do. That takes deep probing questions and absorbing their answers.
In his brilliant book on negotiation, former FBI hostage negotiator Chris Voss describes this as getting to "That's right."
You'll know you're there when you're able to restate the client's position in your own words and they say "That's right".
When your client says "That's right", they feel that you understand and respect their point of view.
Explain the risks.
Now it's time to talk about what could go wrong.
We PPC people think about changes in terms of CTR, CPA and conversion rate. That's not concrete enough. You must translate geek into business.
Something like ...
It is true that adding 25 big photos to our mobile landing page will make it more interesting. But, it will also make the page load much slower. There are a few downsides to slow landing pages:
Some of the visitors will click the back button because it takes too long. You've already paid Google for the click but you've lost the chance to turn the visitor into a lead.
Page speed is an important part of what Google thinks about your site. Slow pages get charged more per click.
This means that we're likely to get fewer leads for our budget. If the number of leads drops by, say 20%, it's the same as getting no leads one day a week.
Don't be alarmist and don't be dogmatic. Set out the possible consequences without emotion. This is the time for facts, not feelings.
Ask the client if they're willing to accept the risks.
Then ask the client if they're comfortable with the risk.
Are you OK with the possibility that we might lose one day's worth of leads every week if we try this experiment?
Notice how I've said we might, and we try. That's on purpose. I'm trying to reduce the client's ownership of the idea.
You see, risk is exciting and addictive. It's illogical, but we humans do things that have clear and significant potential for harm in exchange for thrills. Skydiving, big wave surfing and gambling are extreme examples, but even the most timid librarian has driven faster than the speed limit.
By removing exclusive ownership of the risk, I'm also removing some of the ownership of the reward. And, phrasing it as an experiment implies that it's both temporary and subject to a range of outcomes.
Reduce the blast radius.
If the client wants to press on in spite of the risk, you should come up with a plan to protect them from their madness.
Do this outside the heat of the current discussion. You've probably still got some adrenaline sloshing around your system from when your client hit you with the idea.
Adrenaline is great if you need to tear the door off a crashed car or outrun a mugger but it stops your brain processing complex thoughts. You know how you have the perfect response to a confrontation an hour later? Blame adrenaline.
We've already got a tool for reducing risk - split testing.
If the client proposed changes to the landing page, send half the traffic to the landing pages.
If the client wants to change the ad copy, create new ads and rotate them.
If the client wants to change bid strategy, set up an experiment. Half the budget on the experiment and half the budget to the existing campaign.
and so on.
Set out your proposal in an email, so you've got a papertrail.
Something like ...
I'm a little worried that adding the pictures to the landing page will reduce the number of leads. If it's OK with you I'll send half our visitors to a new page with the pictures and the other half to the regular landing page while we're testing. If it looks like the new landing page is doing better than the old one, I'll send all the traffic to it.
I've never had a client who's not been willing to compromise with a split test instead of betting the farm. But I know some people never make concessions. See the section on making your business immune from toxic clients if you're dealing with one.
Treat this experiment in the same way you would any other. It'd be easy to sabotage it, but as professionals we need to be open to learning new things from the data - even if the idea looks hopeless.
Be nice if you were right (or wrong).
Watch the account like a hawk and act fast. Don't wait for rigorous statistical significance. If you'd normally get 50 leads a day and you're down to 3 leads after a week, tell the client and suggest killing the experiment early.
Nobody would blame you if you gloated a little, but, do it quietly to yourself or send me an email about it. This is not the time for I told you so.
Instead, take your cue from the winner's interview at Wimbledon. My opponent played very well and I was just lucky to win this time. I'm sure it'll be different the next time.
It's much better to preserve the relationship than score a few points.
Here's what I wrote to a client who insisted on replacing my high-performing copy with some drivel.
In the week since we changed the words on the landing pages, we've had 45 fewer leads and the cost per lead has gone up by £2.37 compared with the previous week with the original words.
This is obviously not what we'd hoped for.
It might be worth thinking of reverting to the previous words if this trend continues.
(As you can guess, he asked me to go back to the original copy.)
On the other hand, if the client's wild idea proved to be a winner, be generous with the credit. Your client will associate you with feeling good about themselves.
Adversarial collaboration enhances your reputation as a professional, even when you're wrong. The process - listening to understand, explaining the risk in real terms and reducing the downside - strengthens your client's trust in you.
With most clients that'll be the end of the matter, but there are a few who will rub your nose in this at every opportunity. Be glad you're not married to them and work towards making your business immune to toxic clients.
Make your business immune to toxic clients
Your business becomes immune to toxic clients when the loss of one client isn't a disaster. Here's how
Have lots of small clients instead of a few whales.
Earn a lot more than you spend.
Have a queue of people waiting to work with you.
Get income from sources other than client work.
Want to increase your conversion rate?
I've seen
conversion rates double, triple and even 10X
after a few quick and easy changes to the enquiry form. Subscribe now, and I'll send you a free copy of my in-depth ebook High-Converting Enquiry Forms.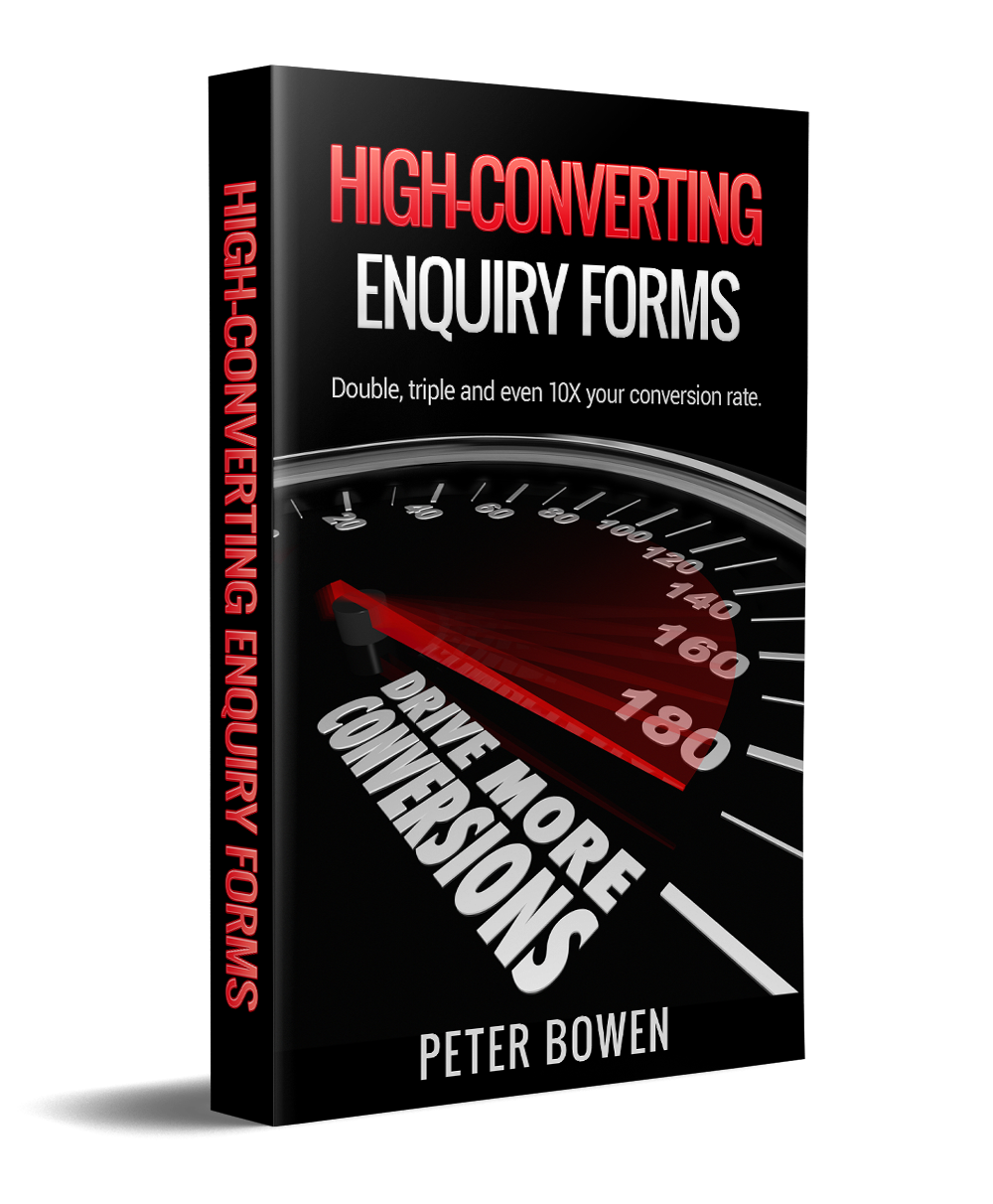 You're already paying for clicks. Now turn them into conversions.
Privacy policy.
Unsubscribe at any time.
Related articles