Backstory. (Skip if you like)
I recently took on a client who'd been abused by his previous agency. Abuse is a strong word but if you saw the account you'd feel the same way. The previous agency:-
Used one-word broad match keywords without having a single negative keyword anywhere. (Niche: legal. Cost per click: high.)

Set up a convoluted account structure that nobody understood.

Set every possible bid adjustment without a single shred of data to back it up.

Invoiced for management. The change history showed they'd never even adjusted a bid.

And, in spite of spending good money, my client wasn't getting new business.
I started work. I won't go into detail about what I did. If you're interested you'll find my strategy for taking on messy accounts here.
Problem 1: Getting honest conversions
Google will let you count almost anything someone can do on your website as a conversion. The previous agency counted things like :-
Having the site open in a tab for at least 2 minutes.

Clicking on a link to the blog.

Scrolling down more than halfway down the page.

And so on.

There are good reasons for tracking how people interact with your site. But, if you're using Google Ads for lead generation you have to know if it's generating leads.
We couldn't answer that from the historical conversion data, and nobody at my client's office knew the numbers. We had to start from scratch.
In my mind honest conversions are where one conversion = one person you can sell to today.
Website visitors can contact my client by live chat, click to call or through a form.
Sometimes people use more than one of these methods. They'll fill in a form and then call. Or they'll try live chat and fill in the form and so on.
This can skew your measurement, because the default conversion tracking counts someone who contacts you in two ways as two conversions.
I wanted to find out exactly how many people were using more than one contact method:-
If only a handful of people used more than one contact method it wouldn't be a huge problem.

If lots of people used more than one contact method we'd be over-counting by a lot. I'd have to set up custom conversion tracking to keep it honest.
Method
I didn't want to invest too much time finding out so I wired everything together using Zapier. It's duct tape for the internet.
I set up a Google Docs spreadsheet with columns for first name, last name, phone, email, contact method, source etc.
We use CallRail to track calls from the click-to-call links on the site. I connected CallRail to Zapier. Zapier adds a row to the spreadsheet as each call comes in.
We use LiveChat for live chat. When a chat ends, LiveChat tells Zapier and Zapier adds a row to the spreadsheet.
The enquiry form is handled by the our internal landing page system. When someone fills in the form, the system sends a web hook to Zapier. Zapier adds another row to the spreadsheet.
Results
Here are the numbers, based on 4 weeks worth of traffic from Google Ads.
We had 10 144 clicks. We had 1 313 unique leads. That's about a 13% honest conversion rate.
(A large number of clicks in the data set came from very sub-optimal campaigns built by the previous agency. Just tightening up the keyword targeting will improve the conversion rate without much effort.)
Here's how people contacted us:-
747 called.

439 filled in an enquiry form.

239 people used live chat.

Adding these gets you to more than the 1313 unique leads because 107 people used more than one contact method.
75 people called and filled in the enquiry form.

16 people used live chat and called.

13 people used live chat and filled in the enquiry form.

And, 3 people used them all - live chat, filling in the form and calling.
The diagram below shows it a little more clearly.


(I made the diagram at https://www.meta-chart.com)
Conclusions
About 8% (107 of 1313) of people used more than one contact method.
If we used the standard conversion tracking available from Google, CallRail and LiveChat we'd over measure conversion by 8%.
I'm not yet sure if 8% is enough to justify the effort of building a custom conversion tracking solution. I suspect it might be because this client is in a competitive market.
Caveats (aka warnings)
The way people contact you from your website is influenced by many factors. I'll talk about 2 of them here:
Device (mobile, tablet or computer). 86% of clicks were from people using mobile phones. 13% on computer and 1% on tablets.
I'd expect fewer calls and more live chat and form fills if we had more computer traffic.
Landing page design. I didn't design the page to favour one contact method over another, but it's possible that it does. All 3 contact methods are easily seen:
The form is big and prominent, mostly above the fold.

The phone link is small but it's at the top of the page, on it's own and repeated in several places in the body copy.

The live chat widget grabs your eye when it pops onto the screen.

I don't know if any one method is more prominent than the other. If you wanted to favour one method you'd reduce the prominence of the others.
Want to increase your conversion rate? For free?
I've seen
conversion rates double, triple and even 10X
after a few quick and easy changes to the enquiry form. Subscribe now and I'll send you a free copy of my in-depth ebook High-Converting Enquiry Forms.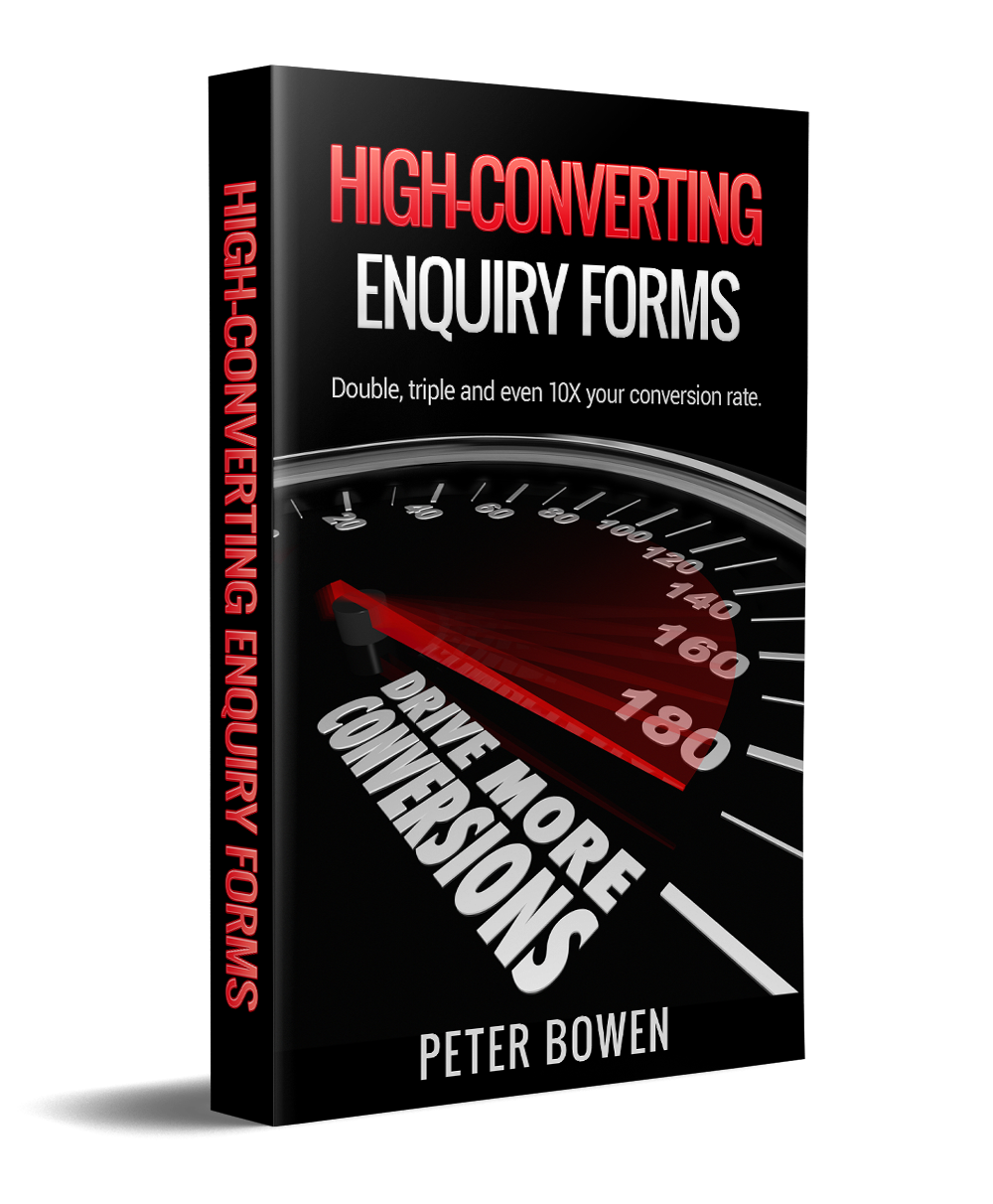 You're already paying for clicks. Now turn them into conversions.
Privacy policy.
Unsubscribe at any time.
Related articles