I was in a meeting with a new client. We're using a Google Ads pilot campaign to test the market for a new service his firm is thinking about offering. He is the first to offer the service in his country.
We're using Google Ads to generate enquiries from people who might be in the market for the service.
The meeting started out well. My client thought I was a miracle worker - 86 leads in the first two weeks - way more than he had hoped for.
But, there was a problem. His sales team had only closed 3 deals.
This wasn't completely unexpected. Their sales process was rough. They didn't want to invest in sales materials, training and so on until they were certain that they could get enough people through the door.
His next question stunned me.
"Can't you write better ads?"
It took me a millisecond to jump to the wrong conclusion. I was about to blast him with CTR stats to show how good the ads were, then he explained.
He knew the sales team was the weak link. He hoped that I could apply some copywriting magic to the expanded text ads we're using to compensate.
Obviously the words in your ads are important, but, they only play a small part in closing a face-to-face deal.
You see, convincing a stranger to buy an expensive or complex product is a process, not an event.
I sketched the process for my client:
Stranger searches Google -> sees our ad -> clicks on our ad -> visits a landing page -> fills in an enquiry form - > someone responds to the enquiry form -> meeting -> discuss finance options -> sale!
A stranger becomes a customer one step at a time.
Each step has one job: move the stranger to the next step.
The ad has only one job: get clicked by as many of the right people as possible.

The landing page has only one job: convince the person who clicked the ad to fill in the enquiry form.

The person who responds to the enquiry form has only one job: arrange a meeting.

And so on.
He got it right away. It's obvious that you can't explain why his service is better in the 270 characters in a Google ad. And, talking about how someone should pay for the service before they're sure it's a good fit is premature.
Instead, if you want to make more sales from your Google ads, you need to know a customer gets from search to sale.
Start by mapping out the path they must follow from clicking your ad till handing you money.
Here is an example from a client who provides legal services.
Click ad -> fill in enquiry form -> fill in qualification form -> invited to book appointment if qualified -> books appointment -> attends appointment -> quote for service -> accepts quote -> invoice for service -> pays.
And another example from a training company.
Click ad -> fill in enquiry form -> phone consultation with training assessor -> quote for training -> accepts quote -> conduct training -> invoice -> payment.
The next step is to figure out how far down the path each person got.
It's a painful exercise and, you might be tempted to automate it, or use a sales pipeline feature in your CRM. Both are good options for the future, but don't get distracted. Start with a spreadsheet. It'll give you 90% of the knowledge for 1% of the setup.
Create a spreadsheet with a column for each step in your process. Add a row for each person. I've set up an example spreadsheet on Google docs here.
If someone got to a step, put a 1 in the column. If they didn't, put a 0 in the column. I put a row of totals at the top that add up the 1s and 0s in each column.
I start this analysis at the enquiry step rather than at the click step. I recommend you do the same. (Don't get me wrong, the click -> enquiry conversion rate is a crucial metric. But, it needs to be analysed in finer detail than you can do by looking at a spreadsheet of leads.)
The more people you track through the process the more confident you can be in the patterns you see. But, you don't have to wait till you've had a few hundred new leads. You can add as many past leads as you can find to get a head start.
Use the total columns to find out at which step the most people are getting stuck on. What can you do to get them to move onto the step after that?
Want to increase your conversion rate? For free?
I've seen
conversion rates double, triple and even 10X
after a few quick and easy changes to the enquiry form. Subscribe now and I'll send you a free copy of my in-depth ebook High-Converting Enquiry Forms.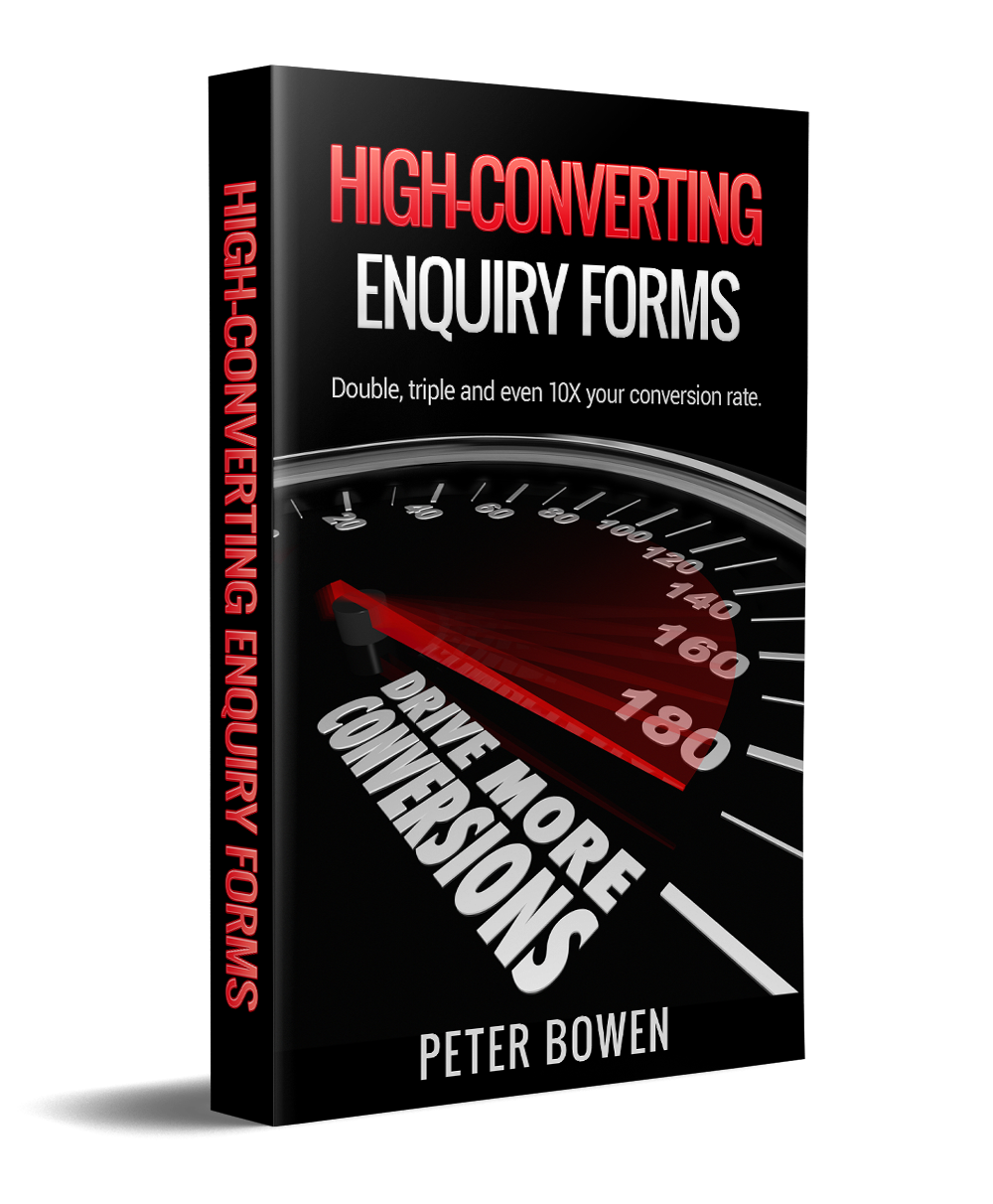 You're already paying for clicks. Now turn them into conversions.
Privacy policy.
Unsubscribe at any time.
Related articles