How much can you pay for a lead and still be profitable?
"Duh! Obvious."
It is obvious, and it should be advertising 101, but I've lost count of the number of people paying Google who don't know the number.
It came to my attention again when Mike who runs Google Ads for his carpet cleaning business asked for help on r/ppc.
His campaign wasn't getting any impressions. He could see his competitor's ads, but his weren't showing.
The answers to his question were all some variations of the textbook answer: raise CPC bids and increase the budget.
The textbook answer is right if you think of Google Ads as a game where you have to get more clicks than the other team. Google encourages this mindset. They give you a scoreboard full of competitive metrics: Impression share, Position above rate, Outranking share and so on.
And why wouldn't they? Google gets all the money.
But running a small business is not a game. Playing pay-more-than-the-competition has real life consequences, including hungry kids and no Christmas presents.
Two weeks passed and Mike was still asking for help. I had half an hour to spare so we met on Zoom. He explained that he'd been advised to raise his bids to $15 / click, but it wasn't working. He'd only had 27 impressions in 3 weeks and no clicks and thus no leads.
I asked him how much he could afford to pay for a lead. He had no idea. He'd never thought about the question. And what's worse is that none of the experts advising him how much to bid had raised the issue.
Here are the questions I asked to help him get to a ballpark figure.
How much do you charge for a typical job? Around $200.
How much are you willing to spend on advertising to get a $200 job? No more than $50.
How many of the people you quote turn into customers? He figured around 1 in 3. I thought that was a bit optimistic and we agreed to work on 1 in 4.
If you're converting 1 in 4 leads into a job, and you are willing to spend $50 in advertising to get that job you need to get 4 leads for $50. That's $12.50 per lead, max ($50 / 4).
Mike's numbers were educated guesses. That's OK, and it didn't surprise me. I've worked with hundreds of businesses over the years and all but one didn't have these figures to hand when we started. You've got a lot on your plate and tracking leads to sales is unlikely to be the most urgent thing you have to do today.
Educated guesses are good enough to tell us if we're close to making Google Ads work or a million miles away. Even if he'd got the numbers wrong and could pay half ($6.25) or double ($25) per lead they still tell us something important: $15 / click was way too high.
We used a similar process to find out what he could offer Google per click.
We started with trying to figure out how many clicks he'd need to get a lead from his site. He didn't have any data. He guessed that half the clicks would turn into leads. I thought that was wildly optimistic and talked him down to using 10% of clicks turning into leads.
At a 10% page conversion rate (clicks -> leads) you need 10 clicks for every lead. He can afford to pay $12.50 per lead so that works out to a max of $1.25 ($12.50 / 10) per click. That's a long way from the $15 he was told to use but it's the most that makes business sense.
He committed to keeping track of how many clicks turned into leads and how many leads turned into sales. He'll use this to adjust how much he can pay per lead and how much he can pay per click.
But he was still left with a problem. His ads weren't getting impressions at $15 / click because the competition is pretty fierce.
I suggested we try an approach that has worked for me in similar circumstances. The maximise clicks bidding strategy with the cost per click capped at the $1.25 he could afford. And double the daily budget.
He had planned on spending $3 000 per month which is roughly $100 / day. Doubling that brings it to $200 / day. Google can spend up to double your daily budget on any given day so he could be in for a $400 day. He would check the ad spend every day and pause the campaign when he'd spent the $3 000 he'd allowed.
That was Tuesday night.
I got an excited message from him on Friday
2 jobs booked at $8 Ones $150 and the other ones a $300 job
2 bookings is hardly a trend, but he's pleased and I was glad he's not paying Google any more than makes sense.
Want to increase your conversion rate? For free?
I've seen
conversion rates double, triple and even 10X
after a few quick and easy changes to the enquiry form. Subscribe now and I'll send you a free copy of my in-depth ebook High-Converting Enquiry Forms.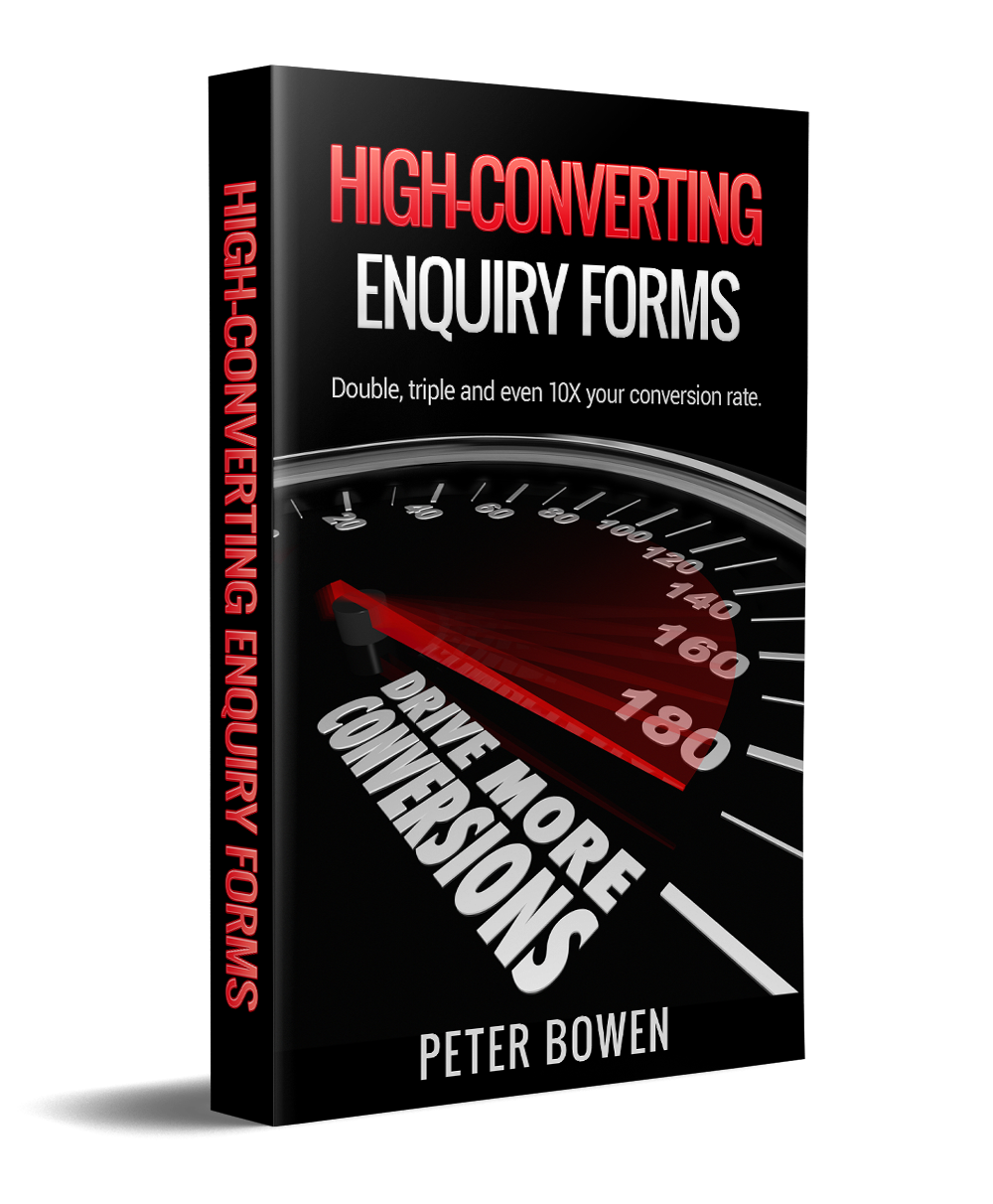 You're already paying for clicks. Now turn them into conversions.
Privacy policy.
Unsubscribe at any time.
Related articles