In this essay I'm talking about you asking Google to show your ad when someone searches for your competitor by name. You might have seen this referred to as a conquesting campaign.
Say for instance you do the same thing as a business called Simmond Associates. You'd add simmond associates as a keyword so when someone Googled Simmond Associates they'd see an ad for your business.
The thinking is that you'll be able to convince some of the people looking for old Mr. Simmond to use your firm instead.
Google loves it when you advertise on your competitor's names.
You see Google gets paid every time someone clicks one of their ads. If nobody advertises on searches for Simmond Associates Google can't make any money from those searches.
But if you advertise and someone clicks your ad, Google makes money. And, when Mr Simmond sees your ads he'll think he's losing customers and start to advertise.
So now, instead of no money, on those searches, Google has two chances to make money: from your ad and from Simmond's ad.
And, to make it even better (for Google), the more people who advertise, the more they charge for each of those clicks.
Using your competitor's name as a keyword is good for Google. But is it good for you?
Let's see how to work that out.
I assume that the aim of advertising your business on Google is to get more of the right kind of leads.
Because Google charges per click, you really only want your ads to show to people who are searching for an alternative to Simmond Associates.
You don't want to pay Google when one of Simmond's loyal customers is looking for directions. Or if they're looking for the phone number, opening hours, the address and so on.

You also don't want to pay Google for clicks from people wanting to sell goods or services to Simmond.
This cuts out most of the available searches. In reality only a tiny proportion of searches that include a competitor's name are worth targeting. And, if you're competing against a local business, that's a problem.
Let me explain.
Any advertising must produce enough of the right kind of leads to justify the cost and attention it takes to run the campaign. For the purposes of this exercise let's say that you'd find it worthwhile if you got one new customer a month from the campaign.
Let's assume that you can close a deal with one in every 10 of Simmond's unhappy customers who contacts you. That means your website needs to send you 10 enquiries for every customer you land.
My experience has been that competitor landing pages have a low conversion rate. Around 1% is typical of what I've seen.
At 1% page conversion rate you need 100 visitors to get one enquiry. So to get the 10 enquiries to land one customer you need 10 x 100 = 1 000 visitors.
How do we get those 1 000 visitors - or 1 000 clicks you've paid Google for.
Competitor advertising campaigns usually have low clickthrough rates (CTR). If you're lucky you might get 2% CTR. So to get the 1 000 clicks you need to get one new customer, you need 50 000 impressions.
That means that at least 50 000 people who are unhappy with Simmond's services need to search Google for you to turn one of them into a customer.
50 000 searches a month is a huge number for a local business. Only a few worldwide brands top 50 000 searches a month from disgruntled customers.
Your numbers will be different. You might be better at selling and close more leads. Your ads might and landing pages might work better. You can do the math to see how many searches you'd need to get one customer.
From what I've seen, for most smaller or medium size businesses, it takes too long and costs too much to be worth advertising on competitor's names. The money and attention gets better returns elsewhere.
Want to increase your conversion rate?
I've seen
conversion rates double, triple and even 10X
after a few quick and easy changes to the enquiry form. Subscribe now, and I'll send you a free copy of my in-depth ebook High-Converting Enquiry Forms.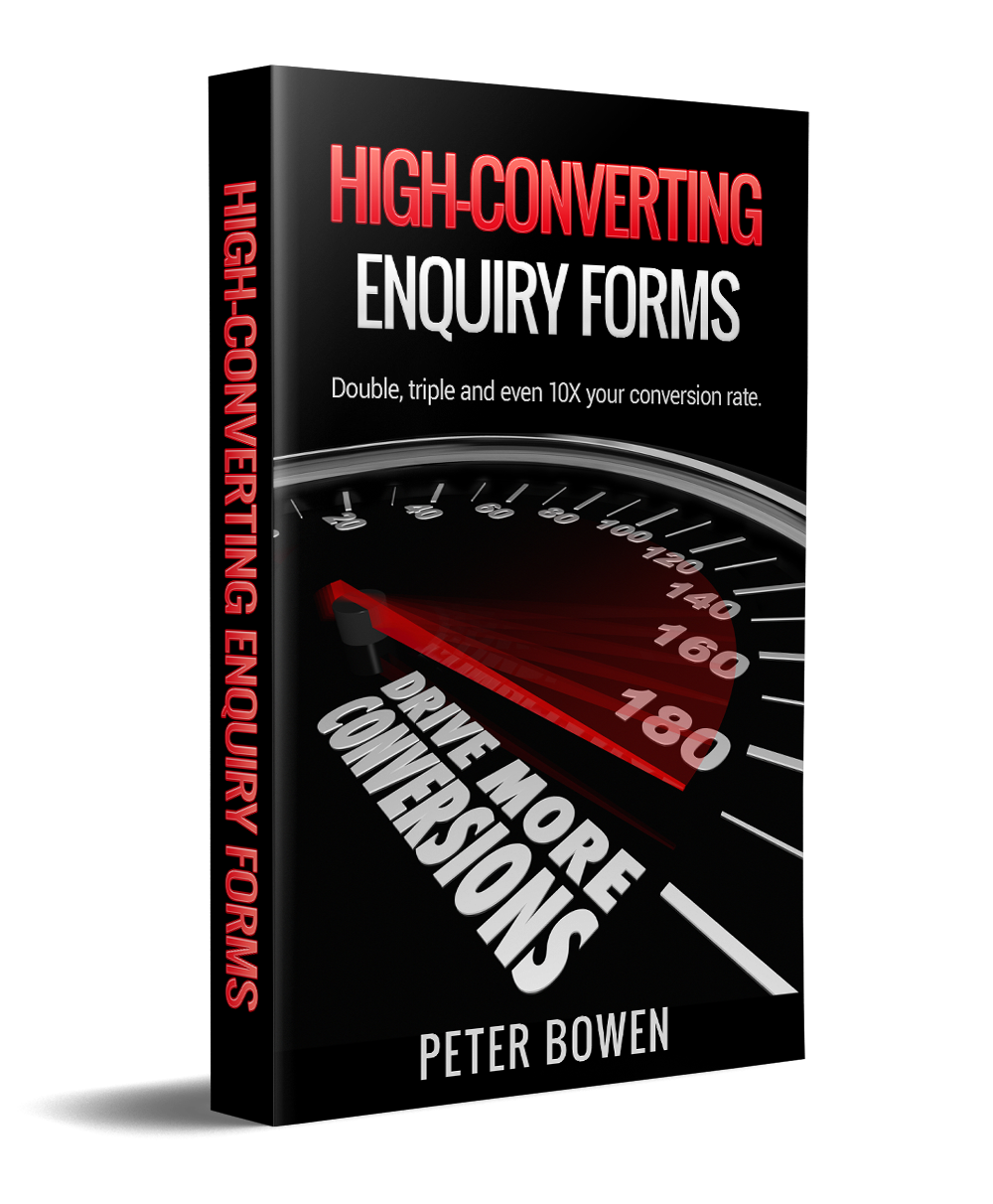 You're already paying for clicks. Now turn them into conversions.
Privacy policy.
Unsubscribe at any time.
Related articles