I've bumped into this problem with almost every client who sells to other businesses (B2B) not to consumers (B2C).
We use Google Ads to find leads for what they sell - things like industrial machinery, hotel linen or software training.
Some of the enquiries come from individuals not businesses:-
A person after 2 towels for their bathroom not 200 for their hotel.

Someone wanting a dust extractor for their woodworking hobby rather than a factory-sized unit.

People wanting to attend an Excel course rather than a business wanting training for 20 staff.
Some clients get particularly crabby about these type of enquiries. Over the years I've tried filtering them out at different places in the search -> sales lead process.
The process goes like this: -
Someone searches Google and sees your ad.
They click on your ad and land on your website.
They read your website and fill in the enquiry form if it looks like you can help them.
You get their enquiry and respond to them.
Here's how you can reduce the number of B2C enquiries at each step.
Step 1. Someone searches Google and sees your ad.
Only use keywords that show the search is for a B2B type enquiry. For my linen client we have keywords like bulk hotel linen, hotel linen suppliers and catering linen suppliers. For industrial woodworking machinery the keywords have words like factory, heavy duty, commercial and industrial in them.

Add negative keywords that say B2C enquiry. Words like home, diy, hobby and all the consumer brands in the field.

Schedule the ads to show during working hours only.

Use device bid adjustments to show ads on computers, not on mobile phones or tablets.

Use demographic bid adjustments to exclude old people 65+ from seeing your ads.
Step 2. They click on your ad and land on your website.
Use ad copy to emphasise that you deal with B2B customers only.
Step 3. They read your website and fill in the enquiry form.
Use the copy on the landing page to tell people that you are a B2B business. Use phrases like We don't supply to the general public. Wholesale and trade customers only. Minimum order size applies.
Step 4. You respond.
You can ignore enquiries that obviously don't meet your criteria.
I added a 'Reject' button to the lead delivery email. (Screenshot below.)


If my client clicks the button it sends a polite "Sorry we can't help you" email to the person who enquired. It takes 2 seconds and the enquiry is out of your hair.
You could do the same with a copy paste reply or a template in your email system.
None of these filters is perfect
They reduce B2C leads but they don't stop them. A guy doing woodwork in his garage searches for an industrial bandsaw. People skip over ad copy. People ignore the words on the site and fill in the form anyway.
And worse, they get rid of good B2B leads.
A maintenance manager doesn't think of their dust extraction system as the industrial dust extraction system. It's just the the dust extraction system. They'll search like that too. If you only use keywords that include things like bulk, industrial etc B2B prospects who don't use include those words in their search will never see your ads.

Showing ads during business hours means you never meet people working late or shifts.

Showing ads only on computers means that you lose the maintenance engineer standing next to a broken bottle-filling machine Googling for a spare part on his iPad.

If you make your ad copy hostile to B2C searches they won't click your ads - exactly what you intended. But, if this lowers your CTR too much your ads will show less and cost more.

If you wait to filter at the landing page you've already wasted the cost of the click.
And, if you dump all enquiries that aren't obviously a good fit you could miss out on some great business.
I may have told about the 8-word Google Ads enquiry that lead to a multi-million deal for one of my clients? The enquiry read - "I'm looking for a water jet cutting machine". It didn't look like a B2B prospect because it had an @gmail address and not much detail.
Every instinct suggested that this was going to be fruitless. But my client called back and spoke to a sparky young engineer from a neighbouring country. He had been tasked to find a water jet cutting machine for the mine he worked at.
That eight-word email turned into my client's biggest sale in five years. The mine bought a second machine some months later. That relationship is still worth significant money from the sale of spares, consumables and training.
B2C leads may just be a cost of doing business
If you don't want the downside that comes with trying to filter out B2C leads you might have to accept them as a cost of using Google Ads.
If you're selling big industrial kit the value of a sale is often high enough to cover lots of ad spend. It's better to waste some money on B2C clicks than it is to lose out on the good leads that you'd never get if tried to filter out the B2C enquiries.
Want to increase your conversion rate?
I've seen
conversion rates double, triple and even 10X
after a few quick and easy changes to the enquiry form. Subscribe now, and I'll send you a free copy of my in-depth ebook High-Converting Enquiry Forms.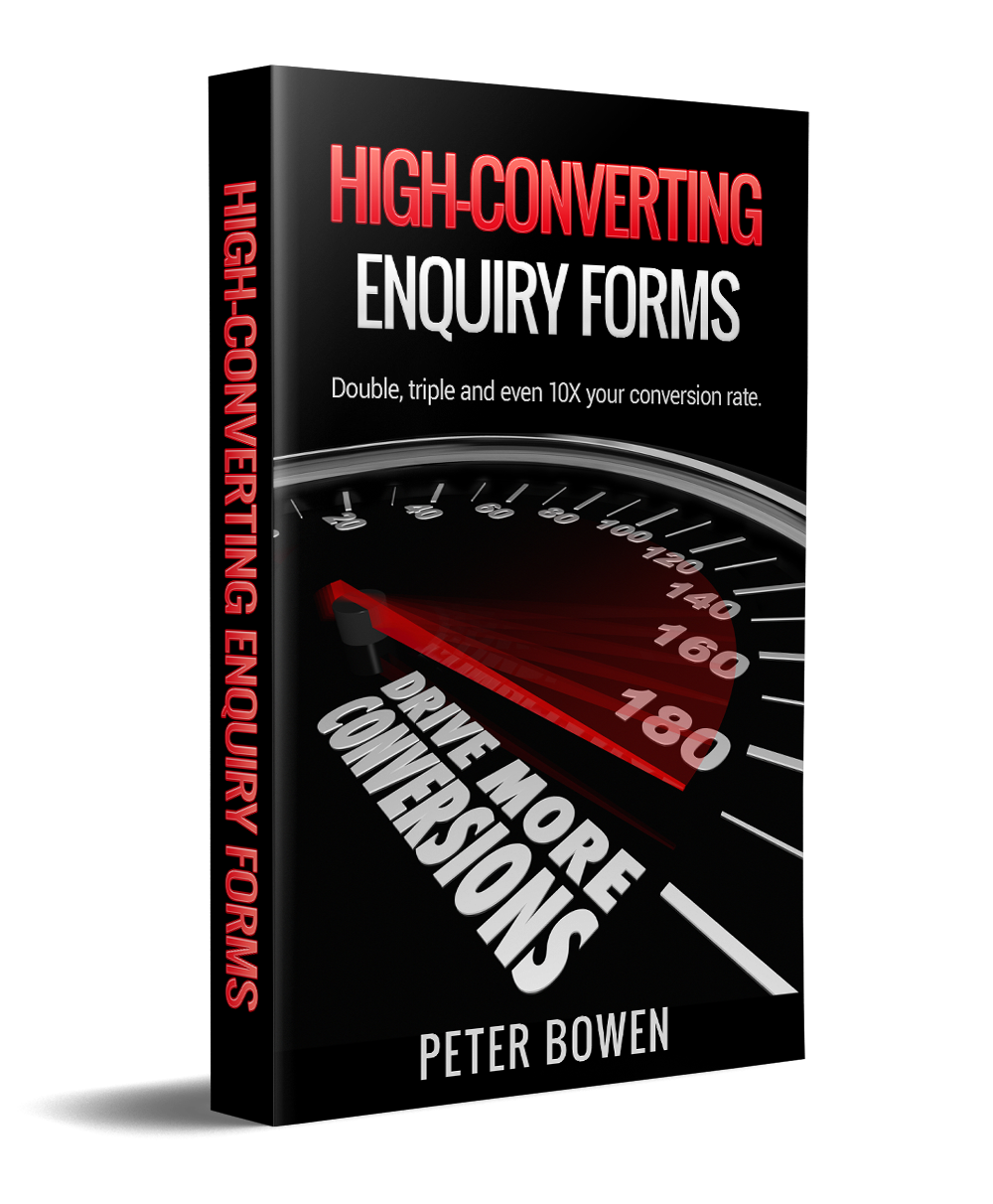 You're already paying for clicks. Now turn them into conversions.
Privacy policy.
Unsubscribe at any time.
Related articles