Tell me if you recognise the PPC dream: You plug impressions, clicks and conversions into a statistical significance calculator and it spits the answer out. "I am 98.79% certain that pausing this keyword is the right decision."
You pause the keyword and CTR and conversion rate goes up and the CPA goes down. ROI is always better this month than last month, forever. Data tells you exactly what to do, every step of the way. You never make the wrong choice.
But, we've been had. Managing Google Ads is never like this, especially if, like me, you use Google Ads to generate leads. The reality for many of the accounts I manage is:
It would take years, for most keywords to collect enough impression and clicks to predict future performance.
Split testing ads often produces no clear winner. Even less often when you compare ad performance at conversion level.
Google allows some wild close variant search terms to match with exact match keywords. This dilutes the already think keyword stats to the point of uselessness.
How are you supposed to make data-driven decisions in a data-drought?
Here are 3 rules of thumb I use to to help me. I hope they help you.
1. Make the decision when a few more clicks or conversions won't change how you feel.
Let's say you were thinking of pausing a keyword because the CTR was much lower than the average CTR in the campaign. The keyword has had 100 impressions and 2 clicks. That's 2% CTR.
Imagine that the next 2 impressions resulted in 2 clicks? Now you've gone from 2/100 to 4/102. That's 3.9% CTR.
Would you still feel that the CTR was too low at 3.9%?
For me, 3.9% CTR feels different to 2% CTR. A few extra clicks would change how I feel. That means it's too early to decide.
Another keyword had 500 impressions and 10 clicks. The same 2% CTR. Again, too low for this campaign.
Imagine that the next 2 impressions resulted in 2 clicks. Now you've gone from 10/500 to 12/502. 2.4% CTR.
Would you still feel that the CTR was too low at 2.4%? For me, 2.4% CTR feels about the same as 2% CTR. The two extra clicks don't change how I feel about it. That means it's the right time to make the decision.
I use the same approach to decide about ads, landing pages, bidding strategy etc.
Sometimes I get it wrong. Less often now than 10 years ago, but still often enough that the next 2 rules save me at least once a month.
2. Don't bet the farm.
Make the consequence of decisions as small as possible. That way if you're wrong, it's not a huge disaster.
Do this by making the keyword or campaign in question less critical to the overall account performance.
Let me give you an example.
I follow a defined launch process for every campaign I build. The process ensures that the first leads arrive soon after the launch. Sometimes in the first hour. That makes new clients very excited and helps cement my status as someone who knows what they're doing. ;)
But, the settings for a successful launch aren't optimal for the longer term. One of the first changes I make is to switch bidding strategy from Maximise Clicks at launch to Target CPA.
I usually get good results from Target CPA but, it's not 100% guaranteed. I've had more than a handful of campaigns where Target CPA results in far fewer leads or hideous CPA. There is some risk in making the change.
If the campaign produces a small portion of the leads, I'll go ahead and change the bidding strategy. One bad campaign won't tank the entire account.
But, if the campaign produces a significant portion of the leads I'll split it into smaller campaigns before making the change. I'll make the change on one of the smaller campaigns. It it works out OK, I'll do the same for the others.
The easiest way to split a campaign is to use the experiment feature in Google Ads. It lets you divert a some of your traffic to the experiment version of your campaign while the rest goes to your original campaign.
3. Be prepared for either outcome
I'm a lot more confident making a decision if I'm ready for both positive and negative outcomes. I've written on this in more detail but here's a quick overview.
Before I make the change I write down:
What I'm about to do,
What I expect will happen
What I'll do if something goes wrong.
What I'll do if it goes right.
For example.
"I'm changing the bidding strategy from Maximise Clicks to Target CPA with a target of $25. I expect to see 75 leads in the next week at a CPA close to $25. If the number of leads plummets, or if the CPA is too high I'll change back to Maximise Clicks. If the number of leads doesn't drop and the CPA stays close to $25 I'll lower the CPA by 15%".
Want to increase your conversion rate?
I've seen
conversion rates double, triple and even 10X
after a few quick and easy changes to the enquiry form. Subscribe now, and I'll send you a free copy of my in-depth ebook High-Converting Enquiry Forms.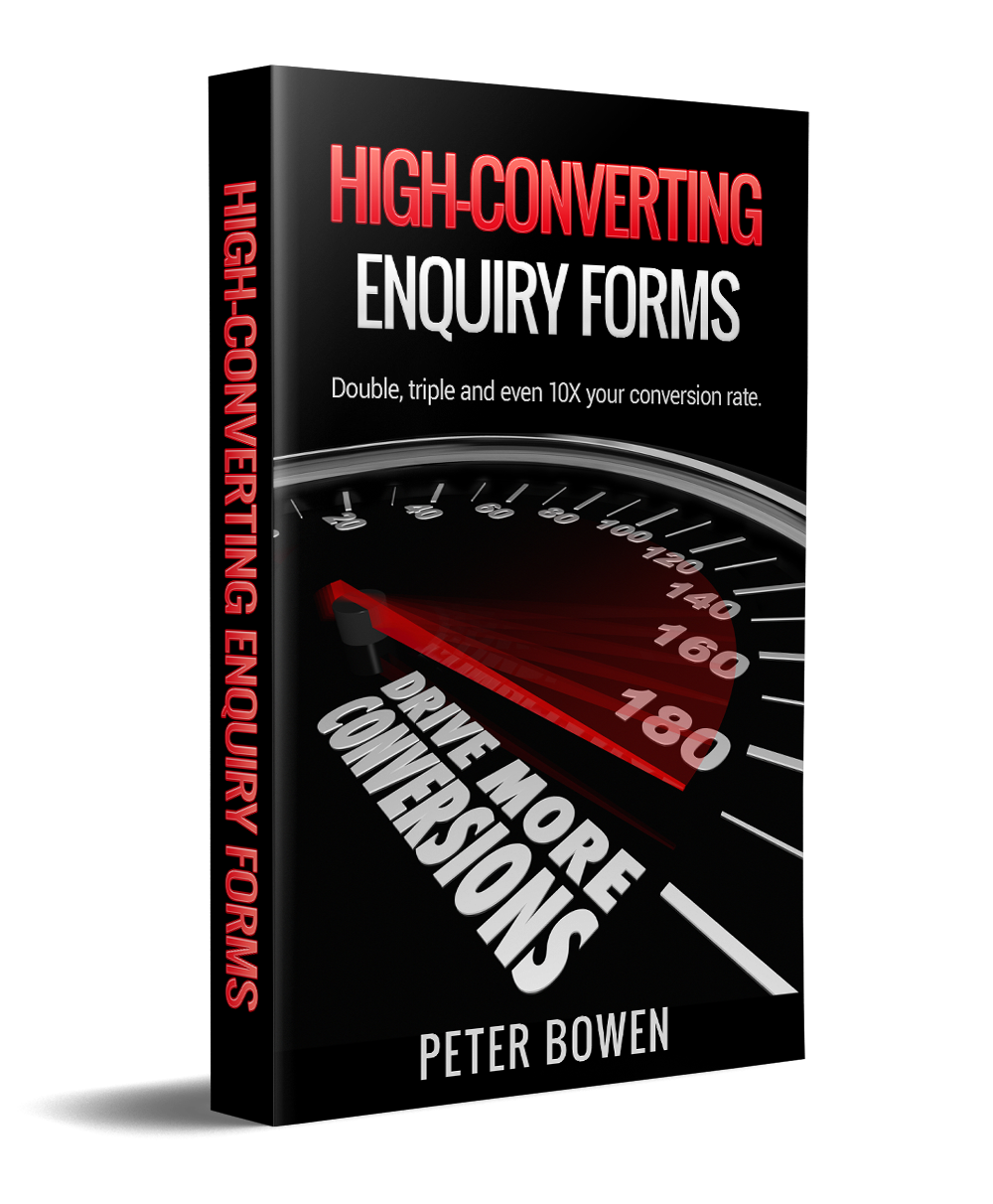 You're already paying for clicks. Now turn them into conversions.
Privacy policy.
Unsubscribe at any time.
Related articles